Carrier Systems Raleigh, NC
A DEHUMIDIFYING SOLUTION FOR ENHANCED COMFORT, EVEN IN HIGH-HUMIDITY REGIONS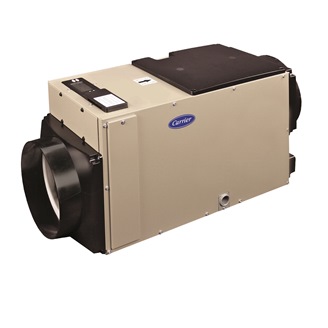 Managing indoor humidity is important to creating a comfortable, healthy indoor environment. Too much humidity can encourage mold growth and create a cozy home for dust mites and other pests to thrive. High humidity can make you and your wallet uncomfortable too because you'll tend to want the cooling temperature lower than you need for comfort so your system has to work harder to keep up.
The Carrier® Performance series dehumidifier is available in two sizes so regardless if you need a whole-home solution or just have a humid basement, you'll have dehumidification that's just right for your needs. Both sizes work quietly to wring out humidity from the air so you can save on utilities and be comfortable. And, they're designed to be configurable with your existing system in a multitude of ways or operate independently away from your system if space is a problem.
Features
STANDARD FEATURES
Set and forget ease with automatic operation based on amount of humidity in the air and your comfort settings
Self-contained. Can operate independent of home's cooling system
Permanent, MERV 8 filter helps clean the air
Nearly silent operation
Zoning capable
Attractive and durable outer casing
Epoxy-coated coil for corrosion resistance
High capacity in a compact size
User-friendly, on-board LCD control
5-year parts limited warranty1
OPTIONAL FEATURES
Models
Get In Touch Today
Ask us a question or request service today!
The technician was right on time, diagnosed the problem quickly and was able to repair the issue. Very satisfied with the service.
Read Full Testimonial
Discover the Difference