Carrier Systems Raleigh, NC
SAVE ON SPACE AND INSTALLATION COSTS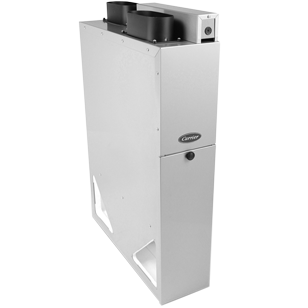 This patent-pending Carrier® Energy Recovery Ventilator (ERV) is designed to mount right onto your furnace or duct. It brings in the fresh air and exits the stale year round. And, like all ERVs, it uses the outgoing air's thermal energy to pre-condition the air coming in so you can enjoy fresh air without overworking your system.
It's designed to be dependable and durable but with your budget in mind. Its unique design simplifies installation by eliminating two of the four ducting paths normally required.
Energy recovery ventilators are best used in climates where the summer is hot and humid.
Features
STANDARD FEATURES
Energy recovery type
Mitigates humidity from incoming fresh air
Prefilters air for reduced indoor air pollutants
Crossflow configuration ensures there is no mixing of stale, outgoing and fresh, incoming air
Crossflow, paper core
Designed for continuous-mode operation without a defrost cycle and does not require a wall control
Designed for application in IECC Climate Zones 1 though 5 only
Easy "no tools" maintenance
Acoustically engineered for quiet operation
10-year parts limited warranty1
Models
Get In Touch Today
Ask us a question or request service today!
We were able to schedule a visit within three days for a non-critical air duct cleaning. Service tech arrived on time, provided excellent service, and solid advice for keeping our ducts clean. Thank you.
Read Full Testimonial
Discover the Difference