Carrier Systems Raleigh, NC
PEACE OF MIND AGAINST A SILENT KILLER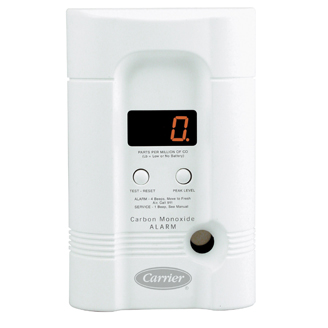 Carbon monoxide is a colorless, tasteless, odorless and highly toxic gas. The Carrier® CO alarm uses sophisticated sensor technology to detect and record levels of CO.
You can monitor the current CO level in your home on a large, easy-to-read digital display. When dangerous levels of CO are present, a loud, audible alarm alerts you and your family automatically.
Features
STANDARD FEATURES
Monitors CO levels updating every 15 seconds
Uses highly sensitive, CO-specific electrochemical sensor
Detects and stores CO levels as low as 11 and as high as 999 parts per million (ppm)
Loud, 85 decibel pulsing alarm
Peak level button displays the highest CO level recorded since alarm was last reset or unplugged
Power outage backup battery protection
Lithium ion battery does not require replacement
Plugs into any standard electrical outlet and comes with a slide out support and extended power cord for tabletop placement
7-year limited warranty
Models
Get In Touch Today
Ask us a question or request service today!
The technician was right on time, diagnosed the problem quickly and was able to repair the issue. Very satisfied with the service.
Read Full Testimonial
Discover the Difference